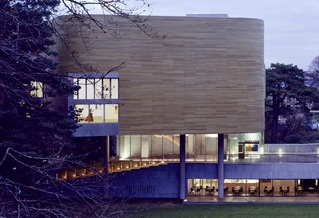 The Gallery
The Lewis Glucksman Gallery is a cultural and educational institution that promotes the research, creation and exploration of the visual arts. Located at the main entrance to University College Cork on Western Road, the Glucksman is an award-winning building that includes display spaces, lecture facilities, a riverside restaurant and gallery shop (open Tuesday – Friday 10 a.m. – 5 p.m., closed Saturday, Sunday, Monday).
Dr. Lewis Glucksman (1925 – 2006)
The Lewis Glucksman Gallery is named in honour of Dr Lewis Glucksman. Dr. Glucksman was a successful investment banker and renowned philanthropist who with his wife, Loretta Brennan Glucksman, generously supported cultural and educational projects in Ireland and the US.
Loretta Brennan Glucksman is currently the Honorary Patron of the gallery.
For the current exhibition(s), see below
CONTACT :
Lewis Glucksman Gallery, University College Cork, Ireland
at t. + 353 21 4901844 and info@glucksman.org
You can keep up to date with the gallery's events and exhibitions by following the Glucksman's Instagram account! instagram.com//glucksmangallery
connecting with them on facebook.com/glucksmangallery
or by following them at twitter.com/glucksmangallery
or by just dropping in to say hello!
We look forward to welcoming you.
The GLUCKSMAN team.
For information on any upcoming talks see glucksman.org
Free & All Welcome
Current Exhibition(s)
2019 Artistic Programme
The Glucksman's artistic programme is funded by the Arts Council of Ireland, Cork County Council, Creative Ireland, Cork Chamber and private philanthropy through Cork University Foundation.
Prism: the art and science of light continues until 10 March 2019.
—-
Close Encounter: Meetings with remarkable buildings
In partnership with the Irish Architecture Foundation
5 April – 30 June 2019
Architects: A2, Boyd Cody, Noreile Breen, Bucholz McEvoy, Carr Cotter & Naessens, Clancy Moore, DePaor, Donaghy + Dimond, Kevin Donovan / Ryan W. Kennihan, GKMP, Hassett Ducatez, Heneghan Peng, Mary Laheen / Aoibheann Ní Mhearáin, Steve Larkin, Dominic Stevens / JFOC, and TAKA.
Curated by Yvonne Farrell and Shelley McNamara (Grafton Architects) for the 2018 Venice Architecture Biennale, Close Encounter: Meetings with remarkable buildings features installations developed by sixteen invited architects (and architectural teams) whom the curators asked to investigate and present a building by an architect of the past, as a concrete act of that "generosity" in which the main theme of this year's Biennale is rooted.
—-
The Parted Veil: Commemoration in photographic practices
12 April – 30 June 2019
Artists: Dervla Baker, Lian Bell, Lisa Butterly & Lisa McCormack, David Creedon, Adrian Duncan, Cáit Fahey,John Halpin, Roseanne Lynch, Tom Molloy, Vukasin Nedeljkovic / Asylum Archive, Ailbhe Ní Bhriain, Miriam O'Connor, James Parkin, Alan Phelan, Amelia Stein, and Mhairi Sutherland
The Parted Veil is an exhibition and publication of Irish artists who use the photographic image to consider ideas of remembrance and celebration, and especially to reflect how intimate experiences express the wider events shaping our contemporary world. A dedicated publication accompanies the exhibition and will feature images from the exhibition, a contextual essay by Adam Hanna, and poems from invited Irish writers Ailbhe Darcy, Vona Groarke, Doireann Ní Ghríofa, Billy Ramsell, and Leanne O'Sullivan.
—-
Beckett and the Wake: Photography by John Minihan
12 April – 30 June 2019
Irish photographer John Minihan photographed the great playwright Samuel Beckett many times in Paris and London, capturing moments that have become iconic images of twentieth-century culture. Minihan's friendship with Beckett began through a conversation about Minihan's acclaimed exhibition 'The Wake of Katy Tyrell' which he shot in the 1977, while visiting his hometown Athy in County Kildare. UCC Special Collections has recently acquired the archive of John Minihan and this exhibition will present the Athy wake photographs as well as images that he took of the notoriously reclusive writer.
—-
Richard Proffitt: May the moon rise and the sun set
14 – 23 June 2019
May the moon rise and the sun set is a new Glucksman off-site project by artist Richard Proffitt that will premiere during Cork Midsummer Festival. Proffitt will transform the interior spaces of the UCC Music Department premises at St. Vincent's Church into an uncanny, atmospherically immersive environment. A transient midsummer offering, Proffitt's installation will exist only in this edition, for this time in this space.
—-
Nicholas Fox Weber Curatorial Residency: Lesley Young
14 – 23 June 2019
The Nicholas Fox Weber Curatorial Residency programme welcomes Lesley Young as our third resident. Lesley Young is an independent curator based in Glasgow and a founding member of Chapter Thirteen, a co-operative and project space conceived to explore the social, critical and material potentials of the curatorial. Between 2014 and 2017 she lead the MLitt Curatorial Practice (Contemporary Art) for the University of Glasgow, a course run jointly with The Glasgow School of Art, integrating teaching with Annette Krauss, Roger Hiorns, Christine Borland and Can Altay.
—-
Peripheries: Electronic literature and new media art
10 – 17 July 2019
The Glucksman presents a week-long exhibition of cutting-edge expression in electronic literature and media art as part of UCC's hosting of the international ELO conference and festival in Cork. Considering the confluence of digital culture and electronic literature, this exhibition will build on the curatorial expertise of Chris Clarke who has curated several exhibitions of new media art and James O'Sullivan, who is a scholar who explores the ways in which the digital is transforming modes of cultural production.
—-
Circadian Rhythms
1 August – 3 November 2019
All life on earth – humans, other animals, plants and even bacteria – carry out biological processes to a 24-hour pattern of activity that mirrors the length of the earth day. Such processes are said to be subject to circadian rhythms as they oscillate at different points during the 24-hour cycle, always following the same rhythmic pattern of activity. Circadian Rhythms presents the work of Irish and international artists who explore these invisible forces through reflections on time, the cadence of working life, sleeping patterns, as well as through the impact of modern technologies that disrupt the natural world.
—-
The Classroom Museum
Spring 2019
The Classroom Museum is a new initiative from the Glucksman that enables schoolchildren in rural Ireland to participate in an imaginative programme of creative learning based around contemporary artworks from the UCC art collection.
With the support of Creative Ireland, this Spring the Glucksman will bring the Classroom Museum to three Primary Schools in Munster – Cappoquin Primary School in Waterford; St. Joseph's National School, Dromcollogher,Co. Limerick; and Ballyporeen National School, Tipperary.
—-
Future Forms
Spring 2019
Future Forms is a creative engagement project that invites Cork schools, third-level students and community groups to work with artists to create artworks that imagine what their city and urban environment might look like in 200 years time. Participants will explore future visions of Cork through a focus on active citizenship, encouraging all of us to think about ways in which we can get involved in positively influencing the form of our own city.
In 2019, Cork Chamber celebrates 200 years of representing business in Cork, we'll be encouraging participants young and old to imagine what Cork city and urban environment might look like in the future. The collaborative artworks made during the workshop sessions will be presented in the Glucksman's main spaces in a public exhibition in March 2019.
—-
Art + Health – A creative exploration of rural medical practices in Ireland 
Spring/Summer 2019
This pilot project supported by the Cork County Council Creative Communities Scheme seeks to shine a light on the work of public health nurses in rural Ireland. Artist Colin Crotty will work with a group of public health nurses to create a new body of work that will reflect on their working life in the community.
The nurses will engage in a series of creative activities, talks and discussions at the Glucksman. The artist will interpret the accounts of the nurses daily practices and these stories will be presented back to the community through a public display of the new artworks.
—-
Bealtaine Film Poem
Spring/Summer  2019
In 2019, the Glucksman will curate a project for Bealtaine that sees artists Gerry Murphy (poet/writer) and Collette Nolan (visual artist) working with the Ballyphehane/Togher Community. Through a series of creative workshops, talks and discussions held at the Glucksman, the artists will work with the community group on the creation of a new film that responds to Bealtaine's theme of hospitality, hosting and welcome. The created film will be screened to the public at the Glucksman in May 2019 before beginning a tour of cultural venues around the country.
—-
For further discussion of the programme, press images or more detailed information, please contact:
Chris Clarke, Senior Curator, The Glucksman, University College Cork. exhibitions@glucksman.org / +353 21 4901844
Earlier Exhibitions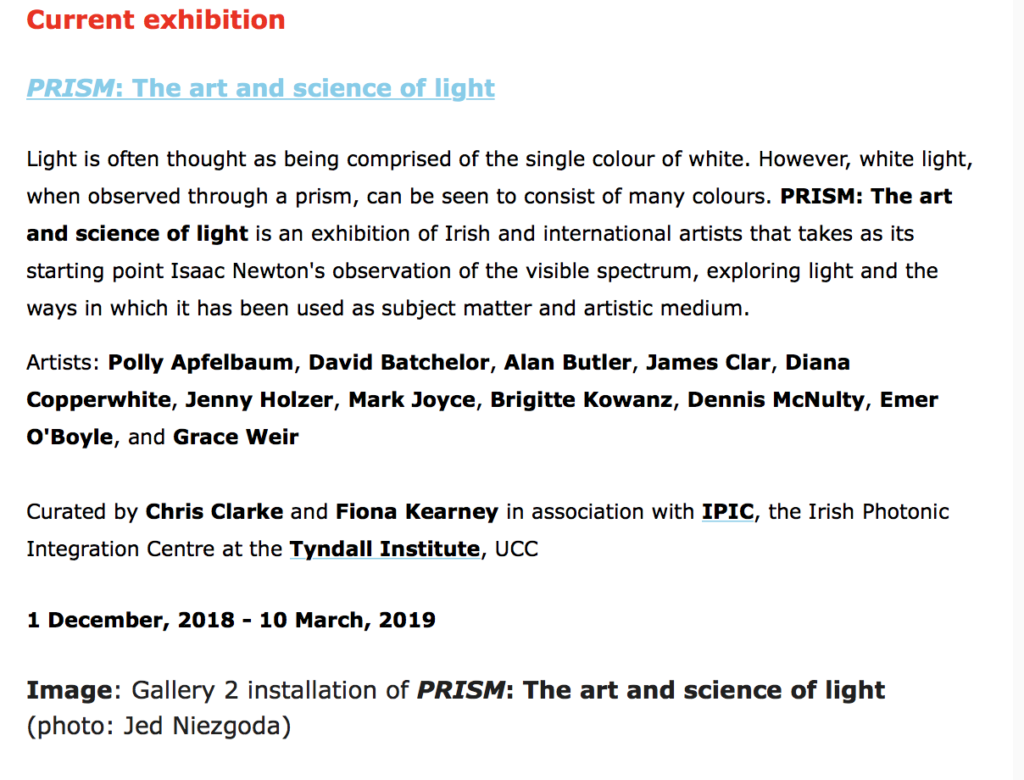 Our new season of art courses begins very soon and we have a variety of courses for creatives of all ages and with different levels of experience. So I hope you might consider one the following opportunities to work with a professional artist and develop your own knowledge and skills.
Lunchtime art course 
Learn the basics of printmaking with artist Lynn-Marie Dennehy. Participants will look at different methods and techniques including mono print, relief and intaglio while creating their own artworks in this 6-week course.
1-2pm, Wednesdays, 2 May – 6 June 2018
€80/€70 for GLUCKSMAN members. (payment includes materials for the 6 sessions)
Saturday painting course 
Learn about contemporary art practices while developing your painting skills in this 6-week course with artist Paul McKenna. Participants will creatively respond to the practices of Irish artists whose artworks are on display in our current exhibition DOUBLE TAKE.
11am-1pm, Saturdays, 5 May – 9 June 2018
€100/€85 for GLUCKSMAN members. (payment includes materials for the 6 sessions)
Mobile photography 
Join award winning photographer Brendan O Sé for a masterclass that will help you get the most from your smartphone.
11am – 4:30pm, Saturday 12 May 2018
€55/€50 for GLUCKSMAN members.
Art Club Senior
Drawing on a city
Under the guidance of artist Peter Nash, participants will learn a wide variety of drawing techniques while exploring the changing architecture of Cork city. Calling on memories, experiences and archival photos, seniors will develop a picture of the city's past, before identifying places of interest and undertaking field trips to actively draw the city as it is now. Suitable for all abilities whether beginner or advanced.
6-week course for 55+
11am – 1pm, Tuesdays, 15 May – 19 June 2018
€100 / €85 for GLUCKSMAN members (payment includes materials for the 6 sessions)
Booking required.
For further information or bookings please email Tadhg Crowley, 
Senior Curator
on 
education@glucksman.org
 or phone our information desk on 021-4901844
DOUBLE TAKE: Collections and Context
30th March – 8th July 2018
Artists: Amanda Coogan, Martin Healy, Fiona Kelly, Alice Maher, Suzanne Mooney, Brian O'Doherty, Garrett Phelan, The Project Twins, and Sonia Shiel
Curated by Chris Clarke and Fiona Kearney
Over the past 14 years, the Glucksman has been privileged to show many ambitious site-specific works by Irish artists.
DOUBLE TAKE: Collections and Context looks back to some of these innovative moments within our exhibition history by recreating displays by artists who are also represented in the UCC Art Collection.
From dramatic gallery interventions to intimate moments of architectural response, art installations from previous Glucksman exhibitions are now shown together with the artist's work from the UCC Art Collection. In doing so, DOUBLE TAKE invites viewers to consider how we see and understand art in different contexts.
The significant presentation of Brian O'Doherty's works in the Sisk Gallery is part of a larger focus on the artist's work generated through the One, Here, Now restoration project at the Sirius Arts Centre which is on display in Cobh throughout 2018.
DOUBLE TAKE is funded by University College Cork, the Arts Council of Ireland and private philanthropy through Cork University Foundation.
Monsters in the Museum


Creative transformations

 
From Frankenstein to Hulk, Shrek to Beauty and the Beast, monsters who seem to be really frightening often turn out to be misunderstood. This Spring, the GLUCKSMAN presents a monster project that invites schools, community groups and children living in Direct Provision to take over the museum with fabulous creatures of their own making. In Monsters in the Museum workshops, over 1000 participating children explored ideas of difference and respect, working collaboratively to create artworks for an exhibition that takes over all of Gallery 1. The renowned illustrator Chris Judge opened the exhibition yesterday evening.
The exhibition remains on display the weekend of Saturday, 14th March 10 a.m.-5 p.m. and Sunday, 15th March 2-5 p.m.
"Outposts: Global borders and national boundaries"
Thursday, 30th November: Official opening at 5 p.m. by Sam Taylor, Director, Médecins sans Frontières, Ireland. OUTPOSTS features work by Katharina Cibulka, Willie Doherty, Dragana Jurisic, Bouchra Khalili, Brian Maguire, Teresa Margolles, Dara McGrath, Larissa Sansour, Hrair Sarkissian, Javier Téllez, and Jun Yang. The exhibition is curated by Chris Clarke and Fiona Kearney in association with Professor Nuala Finnegan, Head of the Department of Spanish, Portuguese and Latin American Studies, UCC.
Deep Maps
West Cork Coastal Cultures
An Irish Research Council funded project led by Prof. Claire Connolly and Dr. Rob McAllen that investigates the biological, cultural and historical context of the south west coast of Ireland from 1700 to 1920.
The exhibition is curated by Dr. Michael Waldron.
Now Wakes the Sea
Contemporary art and the ocean
Features work by Tacita Dean, Marcel Dinahet, Sean Lynch, Maria McKinney, Conrad Shawcross, Lucy Skaer, Janaina Tschäpe, Andreas Kindler von Knobloch, and Anna Zacharoff.
The exhibition is curated by Chris Clarke and Kirstie North.
Enter Stage Left




The craft of theatre in art
The theatre is traditionally seen as a space of storytelling and illusion, where the spectator surrenders to the narrative. In Enter Stage Left, various dramatic devices such as sets, props, lighting and script, are utilised by Irish and international contemporary artists to explore and disrupt the enchantment of thespian conventions. The exhibition is a peek behind the scenes, a revealing look at the craft of theatre and the ways in which artists have reimagined the stage through the prism of art.
Artists: Ella de Búrca, Lothar Götz, Aoibheann Greenan, Barbara Kasten, Gareth Kennedy, David Noonan, Alexandre Singh, and Althea Thauberger.
Join us for a panel discussion and preview of Enter Stage Left at 4 p.m. Friday, April 7, with the artists Aoibheann Greenan, Lothar Gotz and Professor Manfred Schewe (Drama and Theatre, UCC).
SET in TIME




Drawings from the Serge Lifar Collection
From 1909 to 1929, Sergei Diaghilev commissioned artists from the School of Paris such as Pablo Picasso, Georges Braque, Max Ernst and Henri Matisse, alongside prominent Russian painters to design sets and costumes for the Ballets Russes, one of great artistic movements of the early 20th century. Serge Lifar, principal dancer and eventual Director of the Ballets Russes, collected these works of art and the Serge Lifar Collection at the Wadsworth Atheneum Museum in Hartford, Connecticut, is now recognised as invaluable evidence of the emergence of modernism in theatre and in Western art.
Through generous support from the Josef and Anni Albers Foundation, the Glucksman is proud to present a curated selection of the Serge Lifar Collection in Ireland for the first time. The exhibition SET in TIME includes 33 works on paper with set and costume designs by some of the most renowned artists of the 20th century, revealing how their creative responses to stage and performance gave expression to the modern sensibility in art.
Artists: Georges Braque, Giorgio de Chirico, Jean Cocteau, André Derain, Max Ernst, Naum Gabo, Nathalie Gontcharova, Juan Gris, Fernand Léger, Henri Matisse, Pablo Picasso, Georges Rouault, and Pavel Tchelitchew.
Enter Stage Left and SET in TIME will open with a special launch by Nicholas Fox Weber, Executive Director at 5 p.m. on Thursday, 13 April. All Welcome.
_______________________________                                                                                      
Gut Instinct
Art, Food and Feeling
25th November 2016 – 19th March 2017
Gutted, gutsy, gut feelings, gut wrenching, butterflies in your tummy, go with your gut – are all expressions used in everyday language, art and literature to portray a raft of human emotions. How we feel is driven by both emotional and visceral signals and while neuroscientists by training are conditioned to think of what is happening above the neck in terms of the regulation of our emotions, research at the APC Microbiome Institute is literally turning this concept upside down as scientists begin to realise the importance of gut function and the food we eat as critical to our mental well-being.
Food has long been the subject of works of art. In recent times, artists have also examined eating behaviours and the mechanisms of consumption as a way to comment on contemporary society.
From artworks that explore the materiality of foodstuffs to creative provocations that test the boundaries of good taste and revulsion, Gut Instinct: Art, food and feeling draws on cutting edge research by John Cryan, Professor and Chair, Anatomy and Neuroscience, UCC, and his colleagues at the APC Microbiome Institute, to explore how digestion relates to our mental and emotional states.
Artists: Marina Abramovic, Sonja Alhäuser, Domestic Godless, Elif Erkan, Fiona Hallinan, Siobhan McGibbon, Abigail O'Brien, Thomas Rentmeister, and Neil Shawcross
Curated by Chris Clarke, John Cryan and Fiona Kearney
in association with the APC Microbiome Institute
I Went to the Woods, The artist as wanderer
Exhibition opening on Friday, 22nd July 2016
I Went to the Woods looks at how artists have experienced and portrayed their surroundings in the course of walks, journeys and aimless wanderings. Featuring works by Irish and international artists, the exhibition explores the artist as a drifter, nomad, and traveller, who captures the external environment through the careful observation of their surroundings and the collection of materials, objects and images.
In this way, the artists in I Went to the Woods epitomise a sense of rugged individualism and romantic idealism, a worldview expressed in Henry David Thoreau's statement that gives its title to the exhibition: "I went to the woods because I wished to live deliberately, to front only the essential facts of life, and see if I could not learn what it had to teach, and not, when I came to die, discover that I had not lived."
The exhibition has been supported by The Arts Council of Ireland, Danish Arts Foundation, Embassy of Denmark, Ireland, the Flemish Agency for Art and Heritage and private philanthropy through Cork University Foundation.
Free Admission. Suggested donation €5
Recent Exhibitions
2116: Forecast of the next century
Artists: Amanda Coogan, Maud Cotter, Gary Coyle, Eleanor Duffin, Damien Flood, Siobhán Hapaska, Ramon Kassam, Sam Keogh, Ruth Lyons, Eoin McHugh, Ailbhe Ní Bhriain, Mairead O'hEocha, Niamh O'Malley, Darn Thorn, Lee Welch, and the Centre for Genomic Gastronomy.
2116 has been organised in collaboration with the Eli and Edythe Broad Art Museum at Michigan State University, MI, USA.
2116 is a forecast of the next century. It explores our predictions and projections of an increasingly globalised and technology-driven world, and asks how Ireland will look from both within the country and from outside. From our contemporary vantage point, halfway between the origins of Irish independence in 1916 and an unknown, imagined future, how do visual artists see the next 100 years?
The exhibition 2116: Forecast of the next century features 16 Irish artists whose works present a vision of our changing society, the technological advances, progress and decline that will shape the coming century. Taking place one hundred years after the Easter Rising, 2116 is a platform for what is rising now and a way for Ireland in all its definitions to begin to imagine what lies ahead.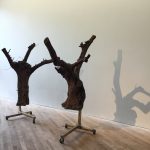 The sixteen artists for the 2116 exhibition were selected by Chris Clarke, Senior Curator at the Glucksman; Caitlín Doherty, Curator and Deputy Director of Curatorial Affairs at Broad Art Museum; and Emma-Lucy O'Brien, Curator at VISUAL, Carlow through invitation and an open submission process.
An extensive programme of curated events, performances, lectures, and educational activities takes place at the Glucksman during the exhibition run.
2116 is a collaboration between two partner organisations which are both world-class architectural art spaces in regional settings: O'Donnell + Tuomey's Lewis Glucksman Gallery at University College Cork, Ireland (2004) and Zaha Hadid's Eli and Edythe Broad Art Museum at Michigan State University, USA (2012). The partners share a commitment to international exhibition practice developed in tandem with public programmes that involve young people and communities.
2116 will take place at the Glucksman, Cork, Ireland from March to July 2016 where it is curated by Fiona Kearney, Director, Lewis Glucksman Gallery, and Chris Clarke, Senior Curator, Lewis Glucksman Gallery, and at the Broad Art Museum, Michigan, USA from November 2016 to May 2017 where it is curated by Caitlín Doherty, Curator and Deputy Director of Curatorial Affairs, Broad Art Museum.
Boolean Expressions: Contemporary art and mathematical data
25 July – 8 November 2015
This is an internationally significant exhibition of contemporary art.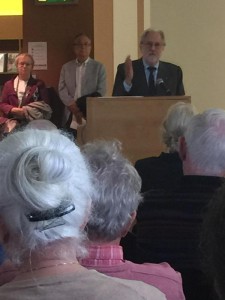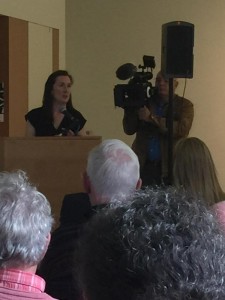 The exhibition will examine themes relevant to the legacy of George Boole and explore the ways in which artists use mathematical ideas and systems in their work.  Boolean Expressions will invite audiences to explore mathematical concepts, the impact of big data on contemporary life, the ways in which systems and codes support creative production, and how artists have used logic and technology for their own artistic purposes.
The exhibition features the work of Irish artists John Gerrard and Aisling O'Beirn,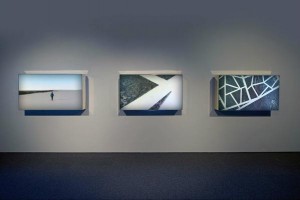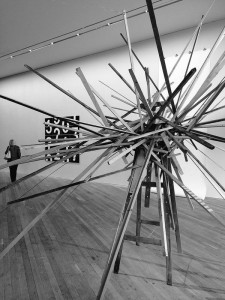 alongside alongside international artists Darren Almond, Aram Bartholl, Mel Bochner, Hanne Darboven, Sol LeWitt, Tatsuo Miyajima, Matthew Ritchie and Lynne Woods Turner.  This is designed to ensure a thrilling spectrum of engagement for audiences of all abilities.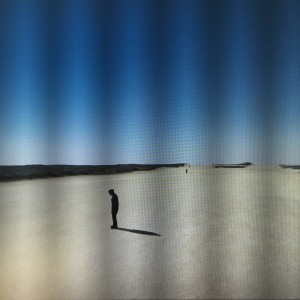 The exhibition is curated by the Lewis Glucksman Gallery in association with colleagues from the College of Science, Engineering and Food Science, UCC. An extensive programme of curated events, talks, art courses and workshops takes place during the exhibition run.
 ……………………………………………………
Previous Exhibitions
Stitch in Time: The Fabric of Contemporary Life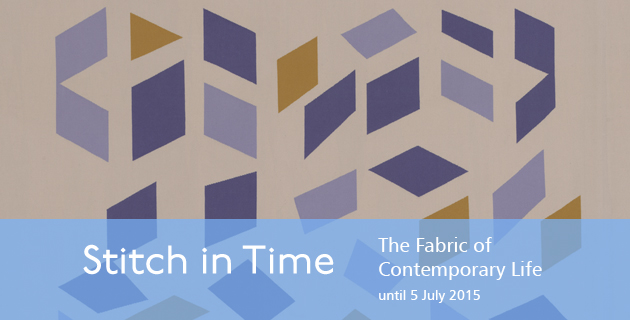 Artists: Anni Albers, Sarah Browne, Jeremy Deller, Sissi Farassat, Angela Fulcher, Grayson Perry, and Slavs and Tatars.
curated by: Chris Clarke and Fiona Kearney
part of the official programme of ID2015: A Year of Irish Design
3rd April- 5th July 2015:  Sisk Gallery and Gallery 2
From protest banners to embroidered passports, abstract fabric designs to narrative tapestries, Stitch in Time demonstrates how artists employ textiles and its associations of a popular, vernacular culture to shape and comment on contemporary life.
Beginning with the groundbreaking work of Bauhaus artist, Anni Albers, the exhibition includes sensitive depictions of social and political issues as well as considered explorations of how fabrics can be deployed in new and imaginative ways.
UCC academic Dr. Laurence Davis gives a free public talk as part of the In Detail series on 13 May 2015.
Download a press release for the exhibition here.
The exhibition has been supported by The Arts Council of Ireland, ID 2015 and the Josef and Anni Albers Foundation.
Chris Clarke is Senior Curator of the Lewis Glucksman Gallery. In this role, he has curated Modern Families: Relatives and Relationships in Art, Passports: Globalisation in Contemporary European Video, Mixtapes: Popular Music in Contemporary Art and the Irish touring exhibition Game On: Re-Newing Media Art.
Fiona Kearney is the founding Director of the Lewis Glucksman Gallery. In this role, she has curated Folly: Art after Architecture, The Artist's Eye: Photographic Portraits of Artists, Living/Loss: The Experience of Illness in Art, Modern American Painting from the NYU Art Collection, The Year of the Golden Pig: Contemporary Chinese Art from the Sigg Collection and Through the Looking Glass: Childhood in Contemporary Photography.
Find out about visiting the Lewis Glucksman Gallery above.
The above image is a detail from Anni Albers's Wall Hanging, 1984, courtesy of the Josef and Anni Albers Foundation.
The Knitting Map: Art, community and controversy 2005 – 2015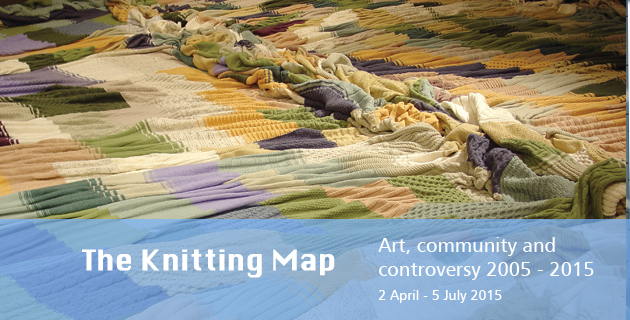 Jools Gilson and Richard Povall
In association with the School of English, University College Cork.
2nd April – 5th July 2015:  Gallery 1
The Knitting Map was one of the flagship projects of Cork's year as European Capital of Culture in 2005, and became the subject of local and national controversy in that year, as well as during the intervening decade.  The Knitting Map was a durational, textile installation, which combined hand-knitting with motion-sensing technologies, and involved more than two thousand people, many of whom were working class women from Cork.  The Glucksman will present both the original work of art that emerged from this ambitious collaboration, as well as photography, documents and media reports that contextualise the project and enable audiences to revisit and explore this key moment in Cork's cultural history.
Jools Gilson is an Interdisciplinary Artist Scholar.  Her performance and visual art work has been produced, performed and exhibited internationally, supported by multiple awards from the Arts Council of Ireland/England and others.  She is also an award-winning radio broadcaster and has made successful documentaries for RTÉ Radio One & BBC Radio 4.  She publishes in the fields of Performance Studies, Creative Writing and Visual Culture.  She directed The Knitting Map with Richard Povall from 2003-2005, and has written and presented on aspects of the work internationally – scholarship recognised by the Textile Society of America (Founding Presidents' Award, 2011).
Knitting Map symposium
Thursday, 14 May 2014.
River Room, Lewis Glucksman Gallery
This symposium brings together art critics and other commentators to discuss a decade of The Knitting Map; its making, reception and future. This includes a keynote address by the design historian and author of "The Culture of Knitting", Joanne Turney, and presentations by the art historian, Deborah Barkun, and artist, Jools Gilson.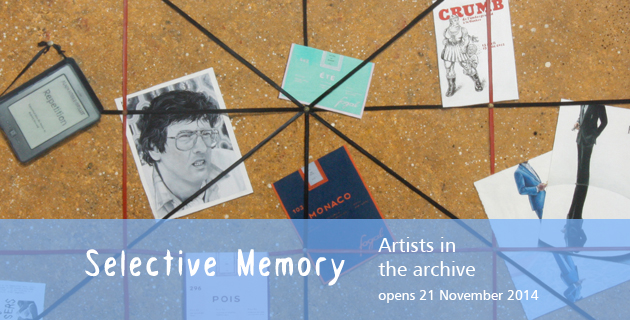 Selective Memory: Artists in the archive
Artists: Zbyněk Baladrán, Paulien Barbas, David Raymond Conroy, Dani Gal, Ruth Maclennan, Mike Mandel and Larry Sultan, Lucy McKenzie, Marge Monko, Gavin Murphy, Alan Phelan, Anne Ramsden, Jasper Rigole, Valerie Snobeck, Sean Snyder, and Miek Zwamborn.
Curated by Chris Clarke and Orla Murphy
in association with Digital Arts and Humanities, UCC
All Galleries, 21 November 2014 – 15 March 2015
The archive preserves the past, its remnants and records, within a repository of human knowledge. However, it also offers a space for critical engagement and creative invention, for challenging the archive's supposed objectivity with alternative histories, subversive interpretations and speculative imaginings. Selective Memory: Artists in the archive explores the ways in which Irish and international artists continually return to the archive, in order to imbue it with a new sense of subjectivity and individuality.
Chris Clarke and Orla Murphy will lead a free curatorial tour of the exhibition at 1 p.m. on Friday, 6th February.
Download a press release for the exhibition at www.glucksman.org/PDFs/SelectiveMemory_PR.pdf
The exhibition has been supported by The Arts Council of Ireland and private philanthropy through Cork University Foundation.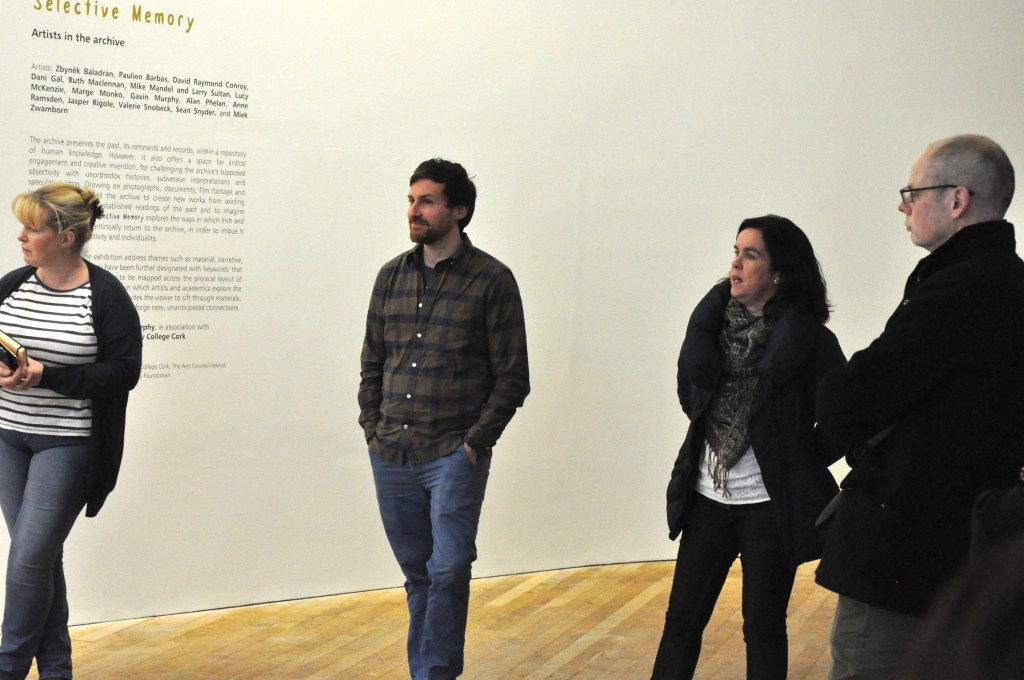 Chris Clarke is Senior Curator of the Lewis Glucksman Gallery.  In this role, he has curated Modern Families: Relatives and Relationships in Art, Passports: Globalisation in Contemporary European Video, Mixtapes: Popular Music in Contemporary Art and the Irish touring exhibition Game On: Re-Newing Media Art.
Orla Murphy is a lecturer in the School of English at University College Cork, in the national, inter-institutional Digital Arts and Humanities PhD program.  She is co-coordinator of the MA in Digital Arts and Humanities at UCC, and the new online MA in Digital Cultures at UCC. Her research is focused on intermediality, on how the text is, was, and will be transmitted; how we read, represent, and share knowledge in new networked and virtual environments.  She is a reviewer and editor for a number of journals and bulletins.
Fieldworks: Animal Habitats in Contemporary Art
The Learning Zoo: Artefacts from UCC's Zoology Museum
1 August – 2 November 2014
This season, we are taking a closer look at animal habitats and the ways in which these environments affect our understanding of different species. Developed with colleagues from UCC's School of BEES (Biological, Earth and Environmental Sciences), the exhibition Fieldworks explores animal life in natural, urban and scientific settings, while the displays in The Learning Zoo present artefacts from UCC's Zoology Museum. Our public programme of artist talks, lectures and workshops invites you to discover more about the artworks on display and the research ongoing in the School of BEES.
We also have lots of special events happening this season including our annual Craft Fair and free activities for Heritage Week, Culture Night and our own 10th anniversary celebrations. Whether you are a first-time gallery goer, a frequent visitor or a returning graduate, we hope there is something for you in this brochure. We offer a range of activities for all ages and abilities including curatorial discussions, art clubs, and workshops for schools and community groups.
You can learn more about these and other activities by downloading our current seasonal brochure, connecting with us on facebook.com/glucksmangallery, by following us at twitter.com/glucksmangallery, or by just dropping in to say hello!
We look forward to welcoming you.
The GLUCKSMAN team