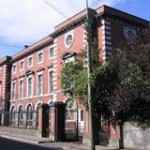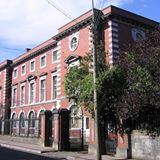 CIT Crawford College of Art & Design (CCAD) is a vibrant multi-campus College, which has been providing education in the arts for over 200 years.
Crawford graduates are among Ireland's top artists, designers, media communicators, art therapists and art educationalists.
There are extensive links with industry and external arts organisations, a thriving visiting lecturer programme, and a strong focus on the development of individual creativity.
CCAD also has its own exhibition space at Wandesford Quay Gallery and this venue has already established itself as an intersection point between the college and the wider artistic community.
See more at: Cork Institute of Technology
Facebook: CrawfordCollegeofArtandDesign
---
Thursday, 1st February: CIT Crawford: The Morrison's Island International Design Competition Exhibition opens the new @CIT_Crawford exhibition space, The Gallery, 46 Grand Parade at 7 p.m. Everyone welcome!
—————————————————————
 "The Present, Past"
Thursday, 30th November opening at 6 p.m. Work includes a vast area of mediums produced by current and graduate students of CCAD.
—————————————————————
"Babel Unbound"
Saturday, 17th June-8th July
CIT Wandesford Quay Gallery
—————————————————————
Degree Show, 'Beyond Dialogue'
Saturday, 10th June-16th June
CIT Wandesford Quay Gallery
—————————————————————
elsewhere
Friday, 28th April-20th May
CIT Wandesford Quay Gallery and Elizabeth Fort
elsewhere is a selected group exhibition by members of Backwater Artists Group, curated by Helen Farrell. The exhibition takes place across two sites in Cork city, CIT Wandesford Quay Gallery and Elizabeth Fort.
In this exhibition selected artists are responding to a specific site within either CIT Wandesford Quay Gallery or Elizabeth Fort. The two sites offer them the opportunity to challenge the physical space of the art gallery or to respond to spaces within the Fort that once functioned as domestic dwellings, a Garda Station and Training Centre, as well as the North West parapet and an air raid shelter.
Participating artists:
CIT Wandesford Quay Gallery – Megan and Cassandra Eustace, Helen Horgan, Róisín Lewis, John Kent, Ben Reilly, Éilis Ni Fhaoláin and Luke Sisk
Elizabeth Fort – Johnny Bugler, Angie Shanahan, Tracy White Fitzgerald, Elaine Coakley, Gerard O'Callaghan, Jo Kelley, Peter Martin, Helen O'Keeffe, Angela Gilmour, Darn Thorn and Sean Hanrahan.
—————————————————————
SKIN/NAHK/ODA
4th – 24th March 2017
CIT Wandesford Quay Gallery, Wandesford Quay, Cork City
SKIN/NAHK/ODA is an exchange project that brings together three European Colleges:  CIT Crawford College of Art and Design; Tartu Art College of Estonia; and Vilnius Academy of Arts, Lithuania. Textiles students from each college have worked simultaneously since October 2016 on this shared research project that will come to Cork in March 2017 for its first exhibition. The works will then travel on to Tartu in April 2017 and Vilinus in September 2017 for exhibition in their college galleries.
—————————————————————
MEANWHILE
3rd – 25th February 2017
We are running a number of workshops and talks throughout our current exhibition MEANWHILE.
Booking is required for each event so please contact the gallery on ccad.gallery@cit.ie or phone 021 433 5210 to book a place.
If you need any further information please do not hesitate to contact the gallery.
Nicola Carragher, Gallery Coordinator, CIT Wandesford Quay Gallery
WORKSHOPS AND EVENTS
Booking is required for the workshops and talks. Please email ccad.gallery@cit.ie to reserve a place.
Thursday, 9th February, 3 p.m.
Emily O'Flynn and Aideen Quirke – Go Start Your Own Space
Cost: Free
Duration: 1 Hour approx
Sample-Studios was established in 2011 in order to provide affordable workspace for artists based in Cork City. Since then, the organisation has grown into one of the largest studio groups in Ireland, with over 80 members. The studios run a performing arts programme, providing residency and development opportunities to theatre practitioners, along with the visual arts programme, TACTIC, one of the few independent, non-commercial art galleries this side of the island.
In 2017, Sample-Studios had to leave their premises at the former Government Buildings on Sullivan's Quay due to commercial redevelopment. Squeezed to the peripheries of the city, the studios, and its public programmes face major challenges, however the need for the arts organisation in the city presents an urgency to keep going. Where else can artists work? Where can they exhibit their work? There are fewer and fewer spaces for cultural creatives to produce work from due to commercial developments and a lack of policy for the provision of cultural spaces at a planning level. The more established studios and venues, with their resources stretched to their limits, are mostly outside of the financial reach of emerging practitioners. There is an urgent need for more artist-run, DIY spaces in the city. Where can they come from?
This artist talk discusses the challenges faced by creative arts practitioners in the city, looks at why there are so few collectives, exhibition spaces and studios, and presents realistic solutions and a 'call to arms' to go start your own space.
Emily O'Flynn is an artist, curator and visual programmer of TACTIC. She is also a member of &union, a collaborative artist collective based in Cork. Aideen Quirke is the Artistic Director of Sample-Studios, overseeing the daily operations and public programmes of the organisation. She has curated and features in the exhibition MEANWHILE with Emily O'Flynn.
Friday, 10th February, 3 p.m.
Tom Doig – artist talk and collage workshop
Cost: €3
Duration 45 mins approx
Tom Doig was born in Aberdeen, Scotland and raised in both London and West Cork before eventually settling in Ireland in 1994. Tom studied Fine Art to Honours Level at CCAD, graduating in 2009. Since then he has worked with Cork Folklore Project, Mayfield Arts Youth Program, and worked on several public art commissions in the City Centre. He has been a member of  Sample Studios since 2012. You can see a complete catalogue of projects at www.tomdoig.ie
Join Tom at CIT Wandesford Quay Gallery to learn about his techniques and process of collage making. Tom will give a short presentation about the various projects he has produced in Cork City – the most recent being the Flags for  the Townlands installation at the bottom of Shandon Street commissioned by Cork City Council.
This workshop is geared towards students and adults as some of the techniques are not suitable for young children.
Wednesday 15th February, 1 p.m.
Jessie Malone – artist talk
Cost: Free
Duration: 45 mins approx
Jessie Malone graduated from Crawford College of Art & Design in 2013 with a BA in Fine Art. Upon graduating, she received the 12 month bursary award from Cork Printmakers and remains a member. She also is a member of Sample-Studios. Her work has been exhibited throughout Ireland, as well as in the UK, Spain and Australia and is part of both private and public collections including the OPW (Office of Public Works) and Cork City Council. Jessie recently curated 16, a unique box-set and exhibition of prints in response to the theme of the 1916 Easter Rising which toured Ireland and the UK.
On Wednesday, February 15 Jessie Malone will give a talk about her approach to printmaking and illustration. Jessie will give a demonstration of the processes involved in creating linocut prints and discuss her previous projects.
Saturday, 18th February, 3 p.m.
Art and tech workshop: Hack your Handbag, Hack your Hat: a fashion-forward workshop for paranoid conspiracy theorists
Cost: €5
Duration: 45 mins
Booking essential
Are you worried about how your smartphone data is monitored and recorded? Do you get the sneaky feeling someone is watching you? Ever get a buzzing feeling in your brain when you suspect a satellite is passing over your home? This workshop validates your paranoia and presents methods for taking action about your deep-rooted concerns regarding government surveillance, corporate tracking and other state-sponsored violations of your privacy and freedom.
Don't get caught wearing an outdated tin-foil hat, bring your own stylish beanie or fedora and build a Faraday Cage inside it (tin-foil hats actually amplify potential mind-hacking signals). Use radio frequency shielding material to build a barrier inside your handbag, wallet or pocket to prevent hacking of your devices, credit cards or whatever you need to hide from whoever is out to get you.
This event is presented by Aideen Quirke, the curator of MEANWHILE, and discusses some of the themes of the exhibition along with practical and impractical approaches to dealing with internet-induced anxiety.
Booking is essential for this workshop due to a limitation on space and materials and also to ensure the non-attendance of government spies. This event will last approximately 45 minutes and a contribution of €5 toward materials is required if participating. Materials are provided however you are welcome to bring a small item to hack, such as a hat, wallet, handbag, clothing etc.
Saturday, 25th February, 3 p.m.
Closing reception and artist panel discussion: MEANWHILE in Ireland
Cost: Free
Duration: 45 mins approx
The closing reception of MEANWHILE brings together some of the featured artists for a discussion around the themes of the exhibition including: making a living as an artist after college, external factors influencing the making of work, exhibition and work opportunities, artist collectives and artist-led initiatives.
—————————————————————
You Make Mine/I Make Yours
5th May – 29th May, 2016
CIT Wandesford Quay Gallery, Wandesford Quay, Cork City
Four members of Cork Printmakers collaborated with Ratamo Centre for Printmaking and Photography in Finland to produce work for the exhibition You Make Mine/I Make Yours. The show will open in CIT Wandesford Quay Gallery on Thursday 5 May and will then travel to Ratamo Galleria, in Jyväskylä, Finland.
A collaborative project between contemporary printmakers based in Ireland and Finland, You Make Mine/ I Make Yours attempts to explore the creative process, questioning the progression from an initial concept to its final realisation. Preliminary proposals of work were exchanged; an engine cranked but with no set product, exposed sketches became blueprints to be constructed.
The artists of Cork Printmakers, Ireland, Johnny Bugler, Conall Cary, Dominic Fee and Fiona Kelly have collaborated with Tuomas Hallivuo, Naoji Ishiyama, Aino Kaarina, Jyrki Markkanen of the Ratamo Centre for Printmaking and Photography, Finland.
Within the creative mind, a new idea is akin to an engine, the cogs are cranked and turn, driven by the individual's idiosyncratic assembly processes. But what if the operators are switched; the keys have been turned but the driver's chair is now occupied by another?
The exhibition will travel to Ratamo Galleria, Jyväskylä, Finland where it will open in September 2016.
This exhibition is kindly supported by Cork Printmakers, Ratamo Centre for Printmaking and Photography in Finland and CIT Wandesford Quay Gallery.
—————————————————————
This eve NSF Presents
Graduate Residency Presentation Night
Venue: Crane Lane Theatre
Dates: Feb Thurs 6th
Times: 6:00 p.m.
The National Sculpture Factory is delighted to present the Graduate Residency Presentation Night with this year's selection of recent graduates from Crawford College of Art & Design, Limerick School of Art and Waterford Institute of Technology.
This year's graduates are :
Bénédicte Coleman (CCAD)
Coleman's work investigates the nature of manufactured materials – most recently used air filters from vehicles or machines – and often takes the form of open-ended 3D installation. Her work process is largely intuitive, informed by the unfolding consciousness of her chosen material, which manifests an unsettling, palpable energy.
Judy Fisher (CCAD)
Fisher's work is concerned with Nature and our relationship to it. The results of Nature's attempts to breakdown our waste products can be unexpectedly beautiful and Fisher attempts to incorporate some of these elements into her work.
Rosemarie Walsh (WIT)
Walsh's work investigates materiality and aesthetics. Working predominantly with porcelain, lead and oxides, she sometimes incorporates a narrative element to create a visual understanding of her work.
Tom Lyons (LSAD)
Thomas Lyons' work investigates remote vision surveillance, communication technology and the cult of conspiracy theory. Lyons is interested in the various ways foreign powers undermine Ireland and other states through subversive methods.
This night is an opportunity for these emerging artists to introduce their work to a wider audience and also to connect them directly to the wider Cork Art scene.
This event is free and open to all to attend.
for further details please see www.nationalsculpturefactory.com
EXHIBITION@THEWANDESFORDQUAYGALLERY
Ordinary Things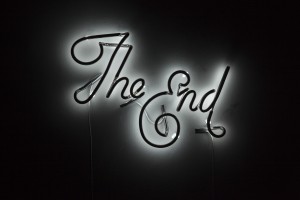 An Exhibition by Backwater Artist Group Members:

BRÍAN CROTTY
JO KELLEY
LORRAINE NEESON
BEN REILLY