Free Public Lecture at The Central Library, Grand Parade, Cork, 7 p.m.

Thursday, 21st September 2017
"From Witness to Spectacle: Encountering Irish Eviction in the 19th Century"
Emily Mark Fitzgerald, Assistant Professor, School of Art History and Cultural Policy, UCD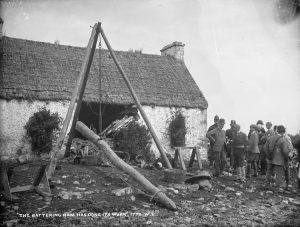 How did people 'see', encounter, and understand Irish evictions in the 19th century? This talk will explore the visual representation of Irish evictions from their depiction in painting in the mid-19th century to subsequent representations in illustration, photography, the magic lantern, and film in the early 20th century. Each of these forms 'witnessed' evictions in different ways, but were united by common aspects of dramatic staging, visual novelty, entertainment, and prompting affective public responses. We will explore in particular the impact of two forms of technology: the invention of dry plate photography in 1870, and the mass mobilization of eviction imagery via the magic lantern in Ireland and Britain during the Home Rule campaign of the late 1880s.

With the exception of the above Public Lecture all  lectures are given on a Wednesday at the Metropole Hotel, MacCurtain Street, Cork City Centre: see, Menu: Our Sponsor and Supporters
Each lecture begins at 7:45 p.m. †
4 October 2017  Jane Choy *

The Mystery of Johannes Vermeer, Master of Light, Colour and Harmony

This talk will focus on the mysterious but enchanting Johannes Vermeer who fascinates everyone. The poetry of Vermeer's paintings is immediate and recognizable, yet almost impossible to describe and explain.  What is it that holds the viewer before a beautiful young girl in a exotic turban, a woman replying to a discarded letter, or a couple at an intimate music lesson,  It is not the narrative, for there is hardly any, but something more universal.  In Vermeer's hands, the stillness of a quiet street scene, a woman's concentration on lacemaking, or the soft light that gently illuminates a scholar in his study become at once heightened and familiar, reminding us of fleeting moments in our own lives.  Through his sensitivity to light, colour and composition, Vermeer transforms such ordinary subjects into expressions of perfect balance and harmony.
1 November 2017   Frances MacDonald*
A New Way of Trading: Middle Class Taste, Commodity Culture and the Department Store in Victorian Cork

Wishing to both define their identity and secure their status, the emerging middle class in Victorian Ireland used their spending power to acquire outward markers of middle-class respectability such as furniture, home furnishings and dress.  This modern commodity culture was fueled by the development of mass-produced goods, the spread of public transport, the growth in middle-class suburbs and the prevalence of consumer exhibitions. However it was the emergence of the department stores that ultimately most reflected and informed the rise of the urban middle class and modern consumer taste.  While Dublin was undoubtedly the epicentre, a number of department stores were also established in other Irish cities such as Cork. Through the analysis of a number of Cork city department stores in the Victorian era, this lecture explores middle class taste and commodity culture – from a Cork perspective.
6 December 2017  Angela Ryan *
Paris, Paintings and Parties: Art, Artifact and Society in the Town and Country Houses of Cornélia Jacquemart-André (1841 – 1912) and Edouard André (1833–1894)

The painter Cornélia Jacquemart and the industrialist Edouard André married in 1881, and devoted their lives to collecting art, travel, and receiving their friends in their beautiful house in the boulevard Haussmann, built by the architect Henri Parent and completed in 1875. Their superb collections of art, furniture and objets were admired at the magnificent parties in their salons, music room and winter garden. Madame Jacquemart-André continued collecting after her husband's death, for boulevard Haussmann and for her country house, the abbaye de Chaalis, and left both houses, with their important private collections, to the Institut de France. Visitors today can enjoy French, Dutch and Italian painting and sculpture, the furniture of the reception rooms, and the private apartments, china and objets de vertu in this unique time-capsule of Parisian beauty, elegance and style (and lunch or take tea in the former dining room).
7 February 2018  Tom Mullins *
Gardens in Art: a selective historical commentary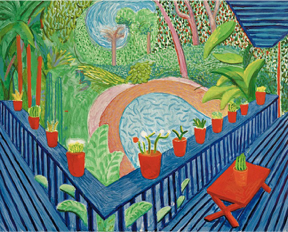 This lecture will seek to show how paintings of gardens  over the centuries, while being aesthetically pleasing and memorable as works of art also reveal significant social and cultural perspectives of their time and place.
The lecture will have four distinct sections entitled respectively:
 Love in the Garden   2.  Power in the Garden   3.  Love of the Garden   4.  A Taste of Ireland.
7 March 2018  Tom Dunne *
Pleasure grounds: the private landscapes of great houses in the art of Thomas Roberts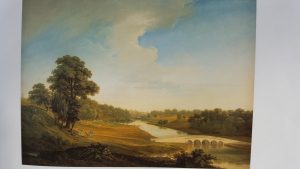 This lecture will look at the landscape paintings of their private grounds, commissioned by landlords in the 1770s, in the contexts of the revolution in garden design by 'Capability' Brown and the depiction of similar demesne gardens in England.
 4 April 2018  Michael Waldron
Curating the Castle: a reflection on mounting an exhibition of Irish Art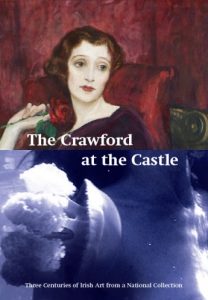 In 2016, key works of Irish art from the Crawford Art Gallery Collection were exhibited in the State Apartments and Coach House Galleries at Dublin Castle. This marked the first time in the gallery's 200-year history that such a significant portion of its collection was shown in the Irish capital. In this lecture, Dr Michael Waldron (co-curator of The Crawford at the Castle exhibition) will provide behind-the-scenes insights into the process of mounting such an exhibition, from the selection of works to the compelling themes, narratives, and relationships such works tell in the context of this historic setting.
2 May 2018  Chris Carroll *
The Manufacture of Cork Silver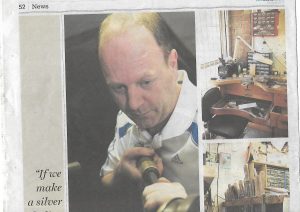 This talk will explore the transition from William Egan & Sons in 1985 to Sean Carroll & Sons Manufacturing Workshop up to present day.


* For the speakers' credentials see, Menu,  Speakers
† Each lecture  begins at 7:45 p.m. and is accompanied by a complementary glass of wine, or cup of coffee/tea with a biscuit, before the lecture as an opportunity to mingle with old and new friends, and meet the Speaker.  These refreshments are offered to members and visitors from 7:00 p.m.