As an independent support group for the Crawford Art Gallery, the Friends´ aim is to promote awareness of the Gallery, its collections and exhibitions and to foster an interest in all aspects of art and heritage. Through your membership and participation in the Friends´ events we provide support to the Gallery for future acquisitions of art and for exhibitions.
Members of the Friends of the Crawford Art Gallery have the opportunity to attend our spring and autumn series of lunchtime lectures on art history, contemporary art and our local heritage of art and architecture.
Throughout the year the Friends of the Crawford Art Gallery also host short visits and guided day tours to galleries, museums and great houses and gardens of Ireland.
Members have the opportunity to attend short talks by art historians on specific works in the Gallery´s permanent collection followed by tea/coffee and scones in the Ballymaloe Gallery café.
Each year we organise a tour abroad for our members to places of cultural interest throughout Europe. Recent tours have been to Northern Italy, Provence, St Petersburg, Berlin and Barcelona.
Members of the Friends of the Crawford Art Gallery receive notification of, and invitations to, the opening of all Gallery exhibitions.
Details of membership are available from the Friends' Office beside the Gallery Café.
Tuesday, Wednesday and Friday 10.30 am – 12.30 pm
administrators:
Noreen Mc Sweeney
Nessa Durcan
+353 (0) 21 490 7864
friends@crawfordartgallery.ie
Become a Member
Download the membership form at: crawfordartgallery.ie
****************************
Talks in January 2018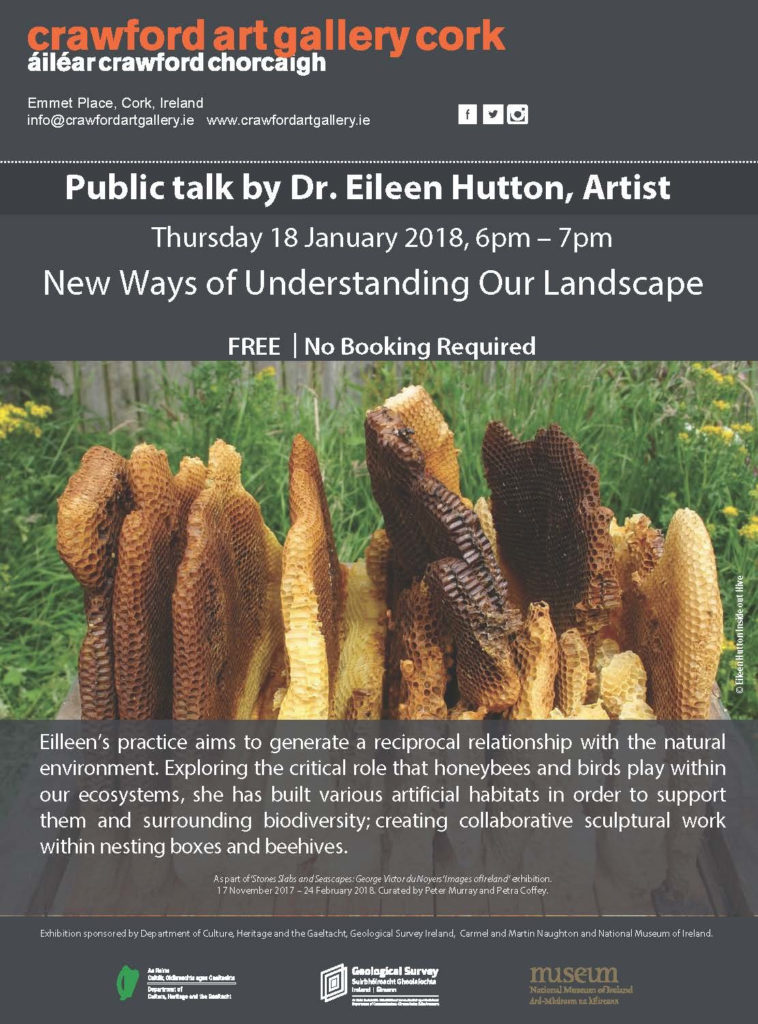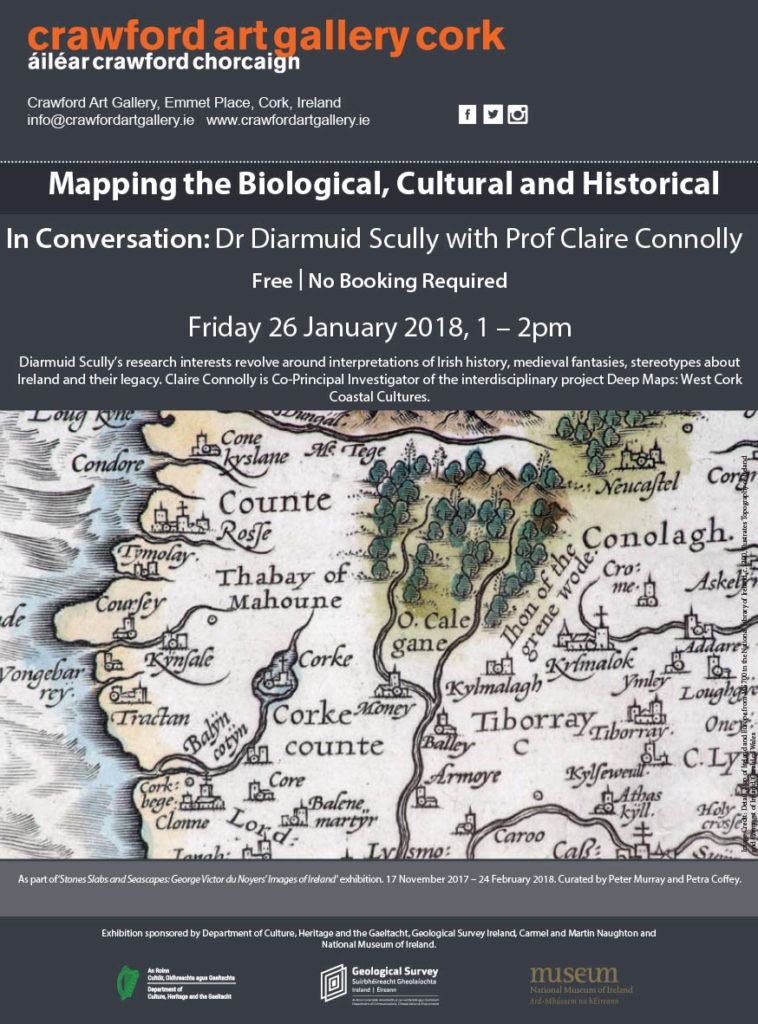 2018 Spring Series of Lunchtime Lectures 
Friday, 16th February at 11:30–12:30 p.m.
Guided Tour of 'Heroes & Villains' with Dr Michael Waldron Curator and Art Historian
Join the Friends and Michael Waldron for a private guided tour of
'Heroes and Villains' at 11:30 – 12:30 p.m. in the Gibson Gallery.
Followed by tea and coffee in the gallery library at 12:30-1:30 p.m.
Admission €10 All Welcome
Friday, 23rd February at 1–2 p.m.
'Harry Clarke-A tale of two churches'
with Patricia Curtin Kelly Art Historian MA(UCD) MSc(SHA)
Admission €5 (Students free)  All Welcome
Wednesday, 28th February at 1–2 p.m.
'The new Director of the Crawford Art Gallery' 
Introducing Mary McCarthy
Admission FREE All Welcome
Friday, 9th March at 1–2 p.m.
'Her dairy, her calves & her homespun linen'
with Dr Claudia Kinmonth MA(RCA) BTecHND
Admission €5 (Students free)  All Welcome
Friday, 16th March at 1– 2p.m.
'Selfie: The National Self-Portrait Collection of Ireland'
with William Gallagher Art Historian
Admission €5 (Students free) All Welcome
Friday, 23rd March at 1–2 p.m. 
'John Millington Synge: 'Art and the Rest'
with Dr Éimear O'Connor HRHA, MBA, PhD, Management Consultant, Visual Arts Adviser, Art Historian, Curator
Admission €5 (Students free) All Welcome
****************************
Wednesday, 21st June
Tour: "Vermeer and the Master of Genre Painting"
National Gallery, Dublin
with lunch at the
 Cellar Restaurant
The Merrion Hotel
€75
Autumn 2016
LUNCHTIME LECTURE SERIES
LECTURES WILL BE HELD IN THE GALLERY LECTURE THEATRE
FROM 1.00 TO 2.00 PM
ADMISSION €5    ALL WELCOME
In our final lecture series of this commemorative year we look back to the Arts and Crafts movement, with lectures from, artist and writer, Brian Lalor and author and art historian, Vera Ryan, who is the guest curator of the gallery's exhibition, Made in Cork: The Arts and Crafts Movement from 1895 – 1925 opening in November.
We begin with Tom Spalding, historian, discussing the art and architecture of the Cork International Exhibition at the dawn of the twentieth century in 1902.
We are delighted to introduce Isabella Mitchell, artist and member of the Friends of the Crawford, who will present her research on William Willes, Cork born artist and first headmaster of the School of Design in Cork.
Mary Healy, lecturer in Art History at UCC, closes the series with a talk on Marie Lucas -Robiquet and Orientalism
Friday, October 28th                 Tom Spalding
Art and Architecture at the Cork International Exhibition, 1902
Friday, November 4th                Isabella Mitchell
One of the Lads  – William Willes
Friday, November 11th            Brian Lalor
The Arts and Crafts Movement Internationally and some of its Cork Adherents
Friday, November 18th            Vera Ryan
Made in Cork: The Arts and Crafts Movement from 1895 -1925
Friday, November 25th            To Be Announced
Friday, December 2nd                Dr. Mary Healy
Visualising the 'Orient': a French Woman Orientalist in North Africa, 1893-1909
New Gallery Acquisition – The Watson Archive
Friends of the Crawford Art Gallery
"ANGELS IN DANGER" THE WATSON ARCHIVE EXHIBITION OPENS TO PUBLIC
Exhibition runs from Feb 1st to March 28th
A major exhibition of hundreds of designs and full-scale drawings for stained glass has opened at the Crawford Art Gallery and will continue on view through to March 28th. Although admission is free, visitors are encouraged to make donations, to assist in the conservation of this important part of Ireland's national cultural heritage.
The exhibition is of the archive of James Watson & Son, a stained glass workshop that flourished in Youghal, Co. Cork, in the first half of the twentieth century. The Watson Archive was acquired by the Crawford Art Gallery, in January 2015.
Curated by Vera Ryan, the exhibition of drawings and designs is unconventional. Laid out on trestles are hundreds of works on paper, as well as books, ledgers and other documentation. Sixty large drawings are displayed on the gallery walls. Most are decayed and damaged, to a lesser or greater extent, and an extensive conservation programme will be needed to bring the archive up to museum standards. The exhibition highlights the challenges faced by the Crawford Art Gallery in preserving important elements of Ireland's cultural heritage.
From 1890 onwards, Watsons produced hundreds of high-quality stained glass windows for churches and other buildings throughout Ireland. The archive comprises over one thousand works on paper, including detailed watercolour designs, full-sized drawings, account books, letter books and other documentary material. Many of the drawings, depicting saints and scenes from the Old and New Testament, are over three metres high; some are up to five metres in height.
The Watsons in Youghal
Originally from Yorkshire, the Watson family were stained glass artists going back over generations, and according to family tradition had worked on York Minster cathedral. In the late nineteenth century, attracted by the boom in church building in Ireland, James Watson moved to Youghal, to work for Michael Joseph Cunningham Buckley (1848-1905). Originally from Cahir, but trained in Louvain, Buckley had first set up a stained glass workshop in London in the 1870's, before taking over church furnishers Cox & Sons, then going through various business vicissitudes, and eventually amalgamating with Curtis, Ward and Hughes. Buckley subsequently settled in Youghal where he established a stained glass and metal works. Up to that time, most windows and furnishings in Irish churches were being supplied by firms such as Franz Mayer of Munich. However, with hundreds of new churches being built, there was a need for more workshops to meet the demand for locally-produced stained glass windows and furnishings. In 1877, Joshua Clarke moved from Leeds to Dublin to set up a workshop, while John Earley, born in Bermingham, also established a stained glass studio in Dublin. In 1888, accompanied by his wife Mary and sons Hubert and Maurice, James Watson moved to Youghal, where one of his first commissions was to install an altar in St. Mary's Abbey. Buckley also acted as agent and designer for the Decorative Arts Guild of Bruges, and his workshop was re-named "The Decorative Arts Guild of Youghal". However his death in 1905 brought an end to this development. By this time however, Watson had taken over from Buckley, establishing the firm of James Watson & Co, at 85 North Main Street, Youghal. His sons Maurice, born in England in 1887, and Clement, born in Ireland the following year, both worked with him, Clement eventually taking over the running of the firm. In time, the business passed on to Clement's sons, Adrian, Cecil, James, John, Paul and Peter. Of these, Cecil (d. 2012) became the principal artist, while another son, James, set up a stained glass workshop in Belfast. Although the Watson workshop survived until recently, and was maintained by successive generations of the family, including Peter Watson (d.2004), the firm's best work was done between 1890 and 1950, and includes windows in Inishannon, Millstreet, Youghal, Fermoy, Glengarriff, Ballinasloe, Ardagh and many other Irish towns and cities.
What is in the exhibition?
Large-scale drawings and smaller watercolour designs, for windows made for churches throughout Ireland. These include images of St. Bridget and St. Patrick, while Blessed Oliver Plunkett relates to a window in St Patrick's Church, Millstreet. The drawing of David is for the window in Triskel Christchurch, while Christ Blessing the Children relates to the Church of Ireland church in Boyle, Co. Roscommon, where there are several Watson windows. The Prodigal Son and The Good Samaritan relate to windows in the Church of St John the Evangelist at Creagh, near Ballinasloe. At Creagh can also be seen the window Christ as the Light of the World, a design based on William Holman Hunt's painting of the same title. The Watsons produced several windows based on this famous Pre-Raphaelite work of art including one in 1898, for St. Mary's Church in Doneraile. However, the majority of drawings in the exhibition are original designs produced within the Watson workshop. The Parable of the Talents design was for a church in Clonakilty. Two female saints, Dorcas and Phoebe, were designed by G. M. Parlby for memorial windows in St. Michael's in Blackrock, Co. Cork. There are also secular scenes: Faith and Fatherland, a rare coloured drawing, depicts Brian Boru at the Battle of Clontarf. Incorporating Celtic interlace and Gaelic script this work, relating to Ireland's national identity, was installed in Knappogue Castle, once a stronghold of the O'Brien clan. Other Watson windows can be found in Christ Church, Inishannon, St. James's, in Mayfield, Cork city, Clonbeg Church, Co. Tipperary, and St. Garvan's in Co. Wexford.
.
Friends of the Crawford Art Gallery
Emmet Place, Cork, Ireland
T: +353 (0)21 4907864
email: friends@crawfordartgallery.ie
W: www.crawfordartgallery.ie
Office Hours:
Tuesday, Wednesday, Friday
10:30am – 12:30pm